The Government has introduced a £1,900 salary uplift for all Police Officers in England and Wales, which equates to a 5% overall pay award across all ranks and pay points.
After much debate and anticipation, the Government has introduced pay rises for public sector workers including Police Officers, nurses, doctors and teachers.
The headline for the Police is that all Officers in England and Wales have had their salaries increased by £1,900 as of September 1st 2022.
However, the rise comes at a time of soaring living costs. A day after the new pay scales were announced by the Government, the Office for National Statistics revealed the CPI measure of inflation hit 9.4% in the 12 months to June, up from 9.1% in May.
So while your salary has gone up, rising prices of everyday goods could limit the real-terms impact of your higher monthly pay. At our AGM this year, Metfriendly Chair Joanna Young spoke about how officers will continue to struggle financially.
What's changed?
The £1,900 Police pay award is the equivalent of an average 5% uplift overall, but the Home Office said the increases are targeted at those on the lowest pay points. These Officers have seen their salaries rise by up to 8.8%, while those on the highest pay have received increases of between 0.6% and 1.8%.
Minimum starting salaries on the Police Constable Degree Apprenticeship have risen to £23,556.
Other changes include an increase of 5% in both the London Weighting and the Dog Handlers' Allowance.
The Home Office accepted the Police Remuneration Review Body's (PRRB) recommendations in full, which it said was a reflection of the "vital role Police Officers have on the frontline making our streets safer".
The Home Secretary said it was right to recognise the "extraordinary work of our Officers who, day in, day out, work tirelessly to keep our streets, communities and country safe".
The impact in real terms
Any change in your pay should be viewed in the context of the things you spend your money on. The unfortunate reality right now is that the cost of most of those things - whether it's food for your family, fuel for your car or energy for your home - is increasing more rapidly than your salary.
ONS data has shown that the overall inflation rate remained close to a 40-year high in August, despite a slight easing from the previous month. Food inflation reached its highest level for 14 years.
Below-inflation increases in pay will be keenly felt by many Police Officers. A survey by the Police Federation of England and Wales (PFEW) published earlier this year showed that seven out of ten Officers were considering leaving the force because of what they considered to be unfair pay and conditions.
Recent PFEW research involving more than 57,000 Officers also revealed:
99% strongly agreed the Police deserve a pay rise in line with inflation and living costs

69% had thought about leaving the service in the past year

65% thought the current starting salary would deter potential new recruits from wanting to join the service
In its response to the 2022 pay award, PFEW referred to analysis showing that rising inflation means the Police are facing a "real-terms, divisive pay cut across ranks". It also called on the Government to provide assurances that this "unsustainable" situation will be addressed so Officers "can afford to do the job they signed up for".
Metfriendly's own research has shown that many Officers are struggling just to get by at the moment.
In our Police Family Finance Index, more than a quarter (26%) of respondents between the ages of 35 and 44 said they had been forced to go without food in the past year due to lack of money. More than eight out of ten Officers aged between 25 and 54 said they had financial concerns at the moment.
We heard from people who had maxed out their credit cards for the first time ever, were constantly living in their overdrafts and could barely afford to pay for the petrol they need to drive to work.
The clearest theme of all was the feeling among Officers that Police pay simply isn't sufficient to keep up with the current cost of living.
Understanding and improving your finances
The upshot of all this is that Police Officers will continue to face severe financial pressures in the coming months and beyond.
You may not have any control over how much your pay goes up, but you do have the power to make positive changes in your own financial situation that will deliver benefits for you and your family.
By getting as much information and impartial advice as possible, you can ensure you're making the right decisions and taking steps that improve your own finances. That might include things you wouldn't ordinarily think about, like understanding your payslip, checking you're on the right tax code and taking advantage of offers, incentives and even free money from the Government.
Metfriendly hosts a range of regular educational seminars around the financial matters that the Police face, where you can get answers to your questions and hear from the experts, including retired Police Officers.
Find out more about our events and seminars and book your place here.
Alternatively, you can book a telephone or video call to discuss your financial options one-to-one with one of our financial experts.
You can download our 2022/23 Police Pay Scales guide here.
2023/24 Police Pay news
Subscribe to our emails to receive your copy of the forthcoming 2023/24 Police Pay Scales guide.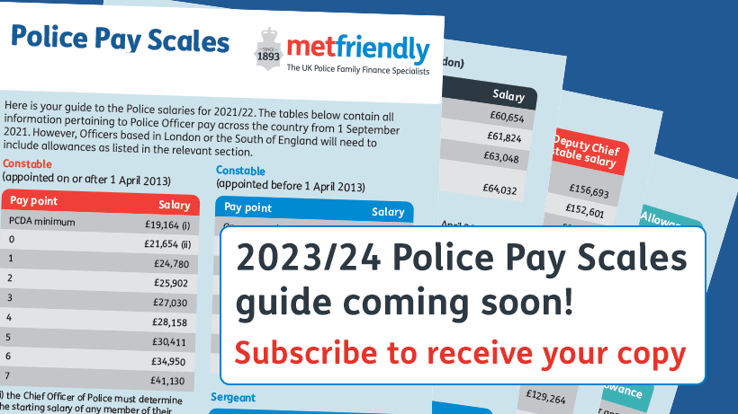 ---
Share